Enterprise-Grade Threat Protection
Cloud-delivered network security and
web filtering that protects any device, anywhere.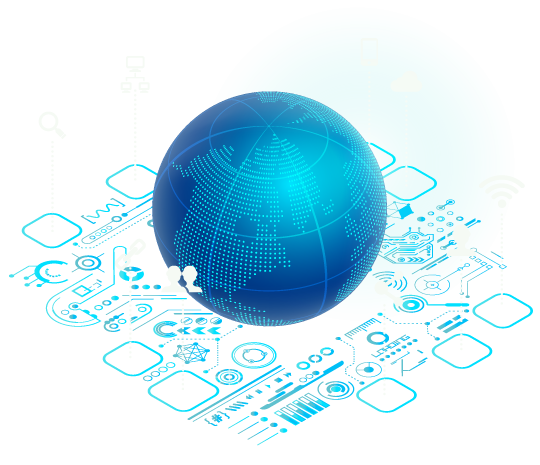 Flexible, fast, and effective cloud-delivered network security
In the past, desktops, business apps, and critical infrastructure were all located behind the firewall. Today, more and more is happening off-network. More roaming users. More corporate-owned laptops accessing the internet from other networks. More cloud apps, mean that users don't need to be on the corporate network to get work done. And more branch offices connecting directly to the internet.
When a user is off-network, they are more vulnerable and the organization lacks visibility and protection. If you rely on perimeter security alone, you're not fully protected. These gaps open the door for malware, ransomware, and other attacks.
eCare Secure Route is the first line of defense
You can stop phishing and malware infections earlier, identify already infected devices faster, and prevent data exfiltration.
Predictive Intelligence : eCare Secure Route uses Big Data analytics and machine learning to automate protection against both known and unknown threats.
Proven Reliability

: eCare Secure Route Global Network handles more than two percent of the world's Internet requests daily with 100 percent uptime.
No Added Latency : There is no need to reroute every connection through proxy or VPN gateways to secure mobile users or remote offices.
Comprehensive Threat Protection : eCare Secure Route not only blocks malware, botnets and phishing over any port, protocol or app, but also detects and contains advanced attacks before they can cause damage.
Worldwide Coverage in Minutes :

eCare Secure Route protects devices anywhere and stays always up-to-date with no hardware to install, no software to maintain and no admin intervention required.
FIREWALLS AND ANTIVIRUS alone ARE NOT ENOUGH
Network (firewall) and endpoint (antivirus) defenses react to malicious communications and code after attacks have launched. eCare Secure Route observes internet infrastructure
before attacks are launched and can prevent malicious internet connections.
Existing defenses cannot block all attacks.
Firewalls and antivirus stop many attacks during several steps of the "kill chain," but the velocity and volume of new attack tools and techniques enable some to go undetected for minutes or even months.
Stop 50 to 98 percent more attacks than firewalls and antivirus alone by pointing your internet traffic to eCare Secure Route.
eCare Secure Route does not wait until after attacks launch, malware installs, or infected systems callback to learn how to defend against attacks. By analyzing a cross-section of the world's internet activity, we continuously observe new relationships forming between domain names, IP addresses, and autonomous system numbers (ASNs). This visibility enables us to discover, and often predict, where attacks are staged and will emerge before they even launch.
Traditional security solutions reroute every Web connection through a proxy, which slows traffic, invades privacy, and can break some sites. Yet the vast majority of malware, botnet and phishing threats are hosted at domains or IPs that are entirely malicious. No proxy is required to block them.
eCare Secure Route built a faster, easier and smarter proxy. One that achieves the security benefits of pure-proxy
solutions without degrading the performance and availability of corporate networks by leveraging our DNS layer.
And unlike Web-only solutions, eCare Secure Route secures every Web and non-Web connection to detect infected devices that use multi-protocol callbacks to botnet command and control.
CASE STUDY : eCare Secure Route Delivers Peace of Mind, Blocks DNS Attacks
"SecureRoute is insurance that keeps you alive instead of paying off when you're dead. You should have it already! If you don't, you're not doing your job."
Tim Rocks, Director of Information Technology, Mancini Duffy
Protect Guest Wi-Fi Hotspots
You want to ensure a great experience for guests, which includes fast Wi-Fi access. But there are security and legal liability concerns. You don't want guests downloading copyrighted material or viewing inappropriate content from your network. Or worse, negative press on your brand if your guests' identities or information are stolen when connecting to a malicious site from your network.
Secure thousands of guest and public networks in minutes.
Stay compliant with acceptable use policy
Keep malware off your network, even on public segments
Deployment is easy, even for multiple locations
Fast Internet access securely.
Shine light on shadow IT with the cloud services report.
You cannot protect what you cannot see.
It is difficult to determine whether employees are using the sanctioned services or if they are using other, unapproved services. Additionally, there is a big blind spot around off-network usage of cloud services, which is growing as employees work remotely.
The cloud services report from eCare Secure Route provides you with a more complete picture of your employees' service usage and security.
Identify where employees' corporate data is going outside your network perimeter.
Gain visibility into who is using cloud services.
Discover new cloud services your employees are using.
Proactively identify which accounts may be compromised when a cloud service is breached.
Gain visibility and control of content on and off your network.
Manage flexible, location-aware policies with eCare Secure Route's 60 content categories and an unlimited number of custom block or allow lists. Laptops can be assigned policies with different internet access restrictions and logging settings based on whether they're on or off your network.
eCare Secure Route informs end users of the policy with branded, customizable block pages, and offers a feature that enables approved, delegated users to bypass these pages.
Allow or block specific domains
Protect your mobile, cloud-connected organization from advanced threats.