One connected solution to accelerate sales
Go beyond sales force automation to outpace your competition. Dynamics 365 Sales is a modern CRM solution that works together with the tools you use every day, such as Microsoft 365 to boost seller productivity, better understand your customer needs, and win more deals. 
What can your company do to get ahead?

How do sellers know which opportunities to pursue and how to personalize conversations?
Leverage data-driven insights and AI to guide sellers with next-best actions and suggested talking points for personalized engagement

How much time do your sellers spend on administrative tasks?
Reduce busywork by automating manual tasks and enable sellers to complete actions right from Outlook to be more productive.

How many tools does your sales team use to get work done?
Empower your sellers and help your IT staff focus on other priorities with a connected sales platform that is easy to set up, configure, and maintain.
A simple way to modernize sales productivity
"With Dynamics 365 for Sales and Customer Service as the foundation for our new system, Envision now has a solution that not only meets our immediate needs and short-term goals, but also offers the scalability and flexibility to accommodate our future growth and longer term integration requirements."
Senior Vice President of IT, Envision Experience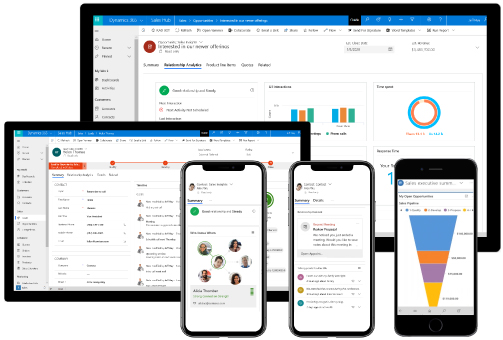 Win new customers through teamwork
Accelerate revenue with AI
Predict and manage pipelines with confidence
Improve customer calls through feedback
Beat the competition and embrace growth
60% of organizations lack a well-defined sales process.
Salespeople struggle to know which opportunities to focus on and what to do next.
Make smarter decisions backed by data: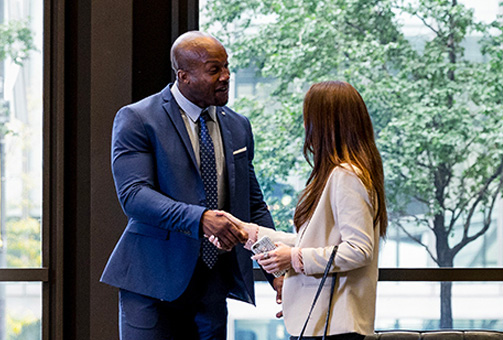 Today's sales environment is fast-paced. Your sellers don't have time to sort through and analyze customer data when it is scattered across multiple systems from many sources.
Sellers often fall back on instinct when making decisions. And that's not going to win as many deals as the companies that embrace sales automation to accelerate sales.
To become a high-performing organization, you need to turn data into insights—with the help of AI—to proactively prioritize which deals to address and which sellers to coach.
Microsoft Dynamics 365 Sales helps businesses empower sellers with modern sales tools. Build better customer relationships, give sellers prescriptive guidance, and enable sales managers to spot trends and track performance with real-time dashboards that leverage Power BI analytics.
We'll help you get up and running quickly on a familiar platform that works with your current Microsoft 365 technology stack.

Get an all-up view of your
sales performance
Aggregate all your sales insights and data in one central place with Dynamics 365 Sales. Gain visibility into your sales performance and make decisions that move sales forward, faster. When you need advanced analytics and data visualization, integration with Power BI gets you the information you need, when you need it.
Improve conversion
and win rates
Use lead and opportunity scoring based on advanced scoring models to identify customers most likely to convert and buy. You can also keep relationships on track with signals from both Dynamics 365 Sales and Microsoft 365 that reveal relationship health and risk.

Keep relationships
on track
Tailor engagement based on contextual insights that recommend personalized talking points and next best actions. Show sellers when and how customers interact with their emails so they can be more proactive and responsive and keep relationships on track—with signals that reveal relationship health and risk.
Get a personalized demo and learn about packaged offerings that will help you get started.
Take the burden of administrative tasks off your sellers.
64% of a sales rep's time is spent on non-selling activities.
Sellers are slowed down by repetitive tasks, disconnected tools, and incomplete information.
Free up time for selling:
Why is it that today, most salespeople are busy doing things that aren't selling? 64% of a sales rep's time is spent on non-selling activities.
Instead of focusing on sales, reps must spend most of their time catching up on admin tasks, hunting down information, creating their own sales content, and going back and forth with stakeholders and colleagues.
That's why productive sales organizations are now looking for ways to free up sellers' time with intelligent automation of routine, repetitive tasks, and seamless tools that streamline processes.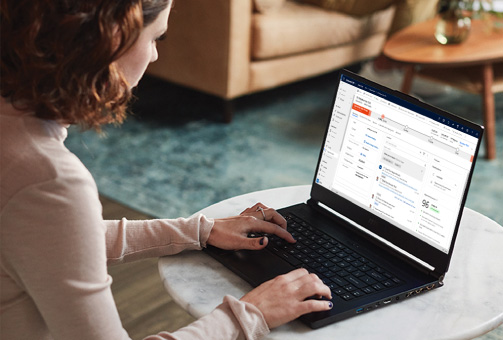 On your mark, get set, sell!
Microsoft Dynamics 365 Sales—a modern CRM solution that increases seller productivity, eliminates redundant tasks, and provides prescriptive sales guidance to increase performance.
As sellers enter notes, minimize routine tasks with contextual prompts that suggest new records to create. You can also eliminate manual data entry by scanning and converting business cards into new records in Dynamics 365 Sales.

Give prescriptive sales guidance
Use modern sales enablement capabilities that intelligently recommend the most relevant content and related training to sellers. Further reduce time for training by offering new sellers contextual guidance during every phase of the sales cycle.

Increase user adoption and spend less time training with a familiar user experience. Dynamics 365 Sales works seamlessly with Microsoft 365. Sellers can review customer information, create quotes and orders, and more—right from Outlook.
Reduce IT dependency and disruption to your business. 
40% of executives indicate that AI technologies and expertise are too expensive.
Sales solutions with AI seem complex, expensive, and too significant of an interruption. Meet your unique business needs with an adaptable sales solution that is easy to customize and works with your existing systems.
With sales capabilities embedded right in Microsoft 365, it's never been easier to get work done.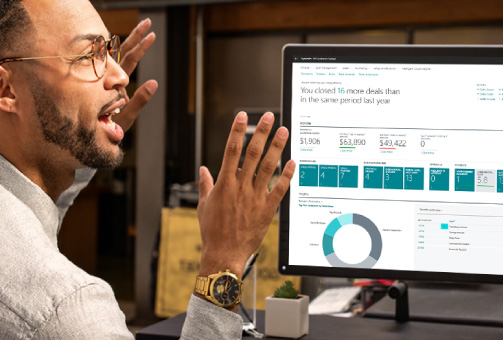 We understand that investing in new technology is a big decision. More companies are relying on sales force automation (SFA) tools and AI to get ahead. But it's no small commitment to deploy a new solution, especially since they can be expensive, complex, and disruptive to your business.
That's where Dynamics 365 Sales can help
Your sellers are overburdened with processes, information, outdated tools, and repetitive tasks. They need help streamlining their sales processes to close more deals.
Go beyond traditional SFA with Dynamics 365 Sales. Built to work with your Microsoft 365 applications, Dynamics 365 Sales is the next logical step in your cloud transformation
Sellers can create quotes and orders, verify payment history, and access actionable customer insight—all while working right from Outlook. No more hunting down data or switching between apps. Take the burden off of your IT staff with powerful technology that already looks and feels familiar, so less training time is needed. Give your sellers a competitive edge.
Easily implement Dynamics 365 Sales to boost seller productivity
Quick to implement and easy to maintain, Dynamics 365 Sales makes setting up services and migrating historical data take days, not weeks. With a familiar user experience across all your devices, your team will be productive from the start.

Seamless, integrated experience
Increase user adoption and gain the business benefits of SFA without a learning curve or need for training. Once we help you get up and running, your sales capabilities will be embedded in Microsoft 365.

Flexible and secure platform
Easily adapt the solution for your specific sales process on a flexible and trusted Microsoft Cloud platform. Add additional business applications or advanced capabilities, such as artificial intelligence, when you're ready.
Please contact our team or complete the form.
A representative will contact you shortly.