Turn Your Signature Into a Key Brand & Communication asset
eSignIt, the leading solution for creating, assigning and managing all of your employees' email signatures & add targeted marketing banners.
Rule Your Email Signature
Your communication, with harmonization.
One campaign to rule them all.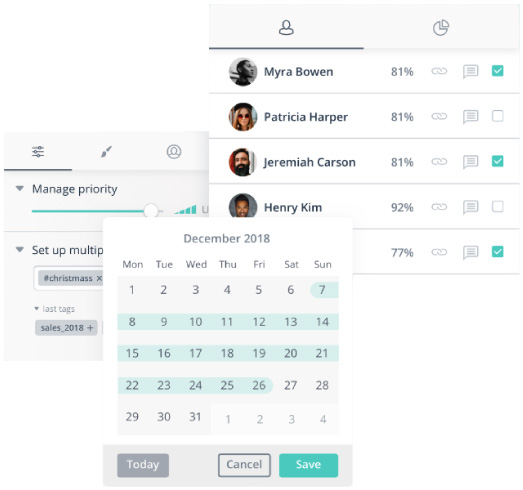 eSignIt transforms each email sent by you to a targeted marketing campaign.
Boost your sales operations
With eSignIt, take advantage of each email sent by your employees to broadcast your current offers.


Be informed on what they think of you
Relay your satisfaction surveys in your email signatures and be assured of maximum feedback.
Amplify the impact of your launches
Are you launching a new brand, a product, a website, an agency? It is the moment to efficiently communicate!


Optimize the ROI of your events
Do you participate in events? Do you organize internal events: open houses, webinars? Don't forget to relay the information in your signatures.
Your emails become a new communication channel!
The Right Message, To The Right People, At The Right Time
Your Signature. Your Move.
eSignIt Team is here to Boost Your Campaign!
Do you like our signature?
Our e-books and content, especially made for you.
The Marketer's Secret Weapon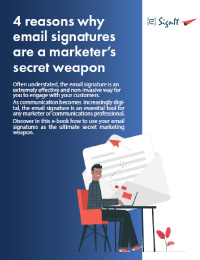 As communication becomes increasingly digital, the email signature is an essential tool for any marketer or communications professional.
Discover in this e-book how to use your email signatures as the ultimate secret marketing weapon.
How many hours a month does your team spend helping coworkers fix, update, or implement their email signatures?
Let's make it zero.
Use this e-book as a guide to centralize and automate the management of all employee signatures on Outlook.
Guide for the Performance
With the end of cookies and the rise of initiatives like GDPR & CCPA, the digital marketing game is changing.
Among the best are 1-to-1 emails and their embedded email signatures. They escape the filters, bypass the algorithms and guarantee a high performance…
Achieve Change Management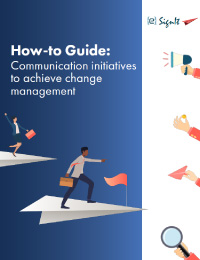 Digital transformation, internal reorganization, creation of a new service offering, and outsourcing an entire department…
There are many reasons that push a company to change, and even more so since the health crisis. So how can you promote successful change?

Schedule a meeting to discuss how to automate your email signature for external & internal communication
Please contact our team or complete the form. A representative will contact you shortly.