Dynamics 365 Business Central
Connect your business to drive productivity and profits
As companies grow, they get to a tipping point where their current accounting or ERP systems cannot keep up with demand, provide the insights needed to make informed decisions, or enable a mobile workforce.
Microsoft Dynamics 365 Business Central is a comprehensive solution that helps SMBs connect their financials, sales, services, and operations to streamline and secure business processes, improve customer interactions, and make better decisions.
Supercharge your growing business with an all-in-one solution.
Desktop, laptop, tablet, or phone you get the same powerful capabilities and rich functionality. Get one experience that is consistent and secure across Windows, iOS and Android.
"With Dynamics 365 Business Central we no longer have to store data in separate systems that don't work together – it's all integrated."
Kyle Johanson
VP, J-Systems, Inc.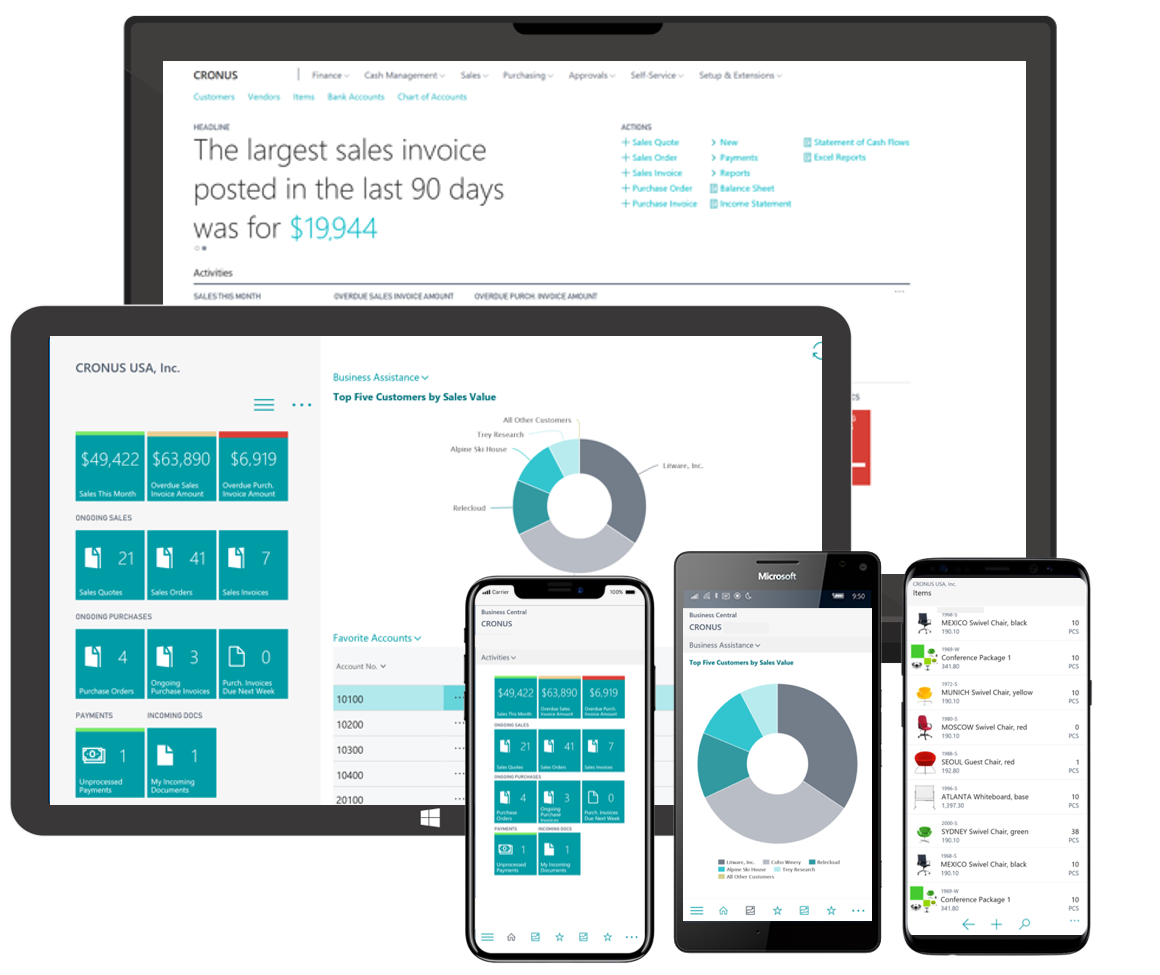 Do your teams waste time looking for information and switching back and forth between apps?
Connect your people and processes with a single, unified solution so you can get more done using the tools you are already familiar with. 
Can you easily analyze and share data with teams to inform decisions and improve customer service?
Get an end-to-end view of your business with reliable financial reporting and guide teams to optimal outcomes with predictive analytics and AI.

Secure and flexible system
How do you keep your data secure and ensure compliance with industry and financial regulations?
Trust in a solution that helps maintain compliance and secure financial, customer, and personal data—all while delivering a 99.9% uptime service level agreement.
Growth is stalling because systems
and processes cannot keep up?
Streamline business processes with one comprehensive solution
Automate tasks and improve workflows across accounting, sales, purchasing, inventory and customer interactions with a business management solution that is deeply integrated with Microsoft 365.


Accelerate the quote to cash process by quickly acting on sales-related inquiries, managing service requests, and processing payments—all from within Outlook.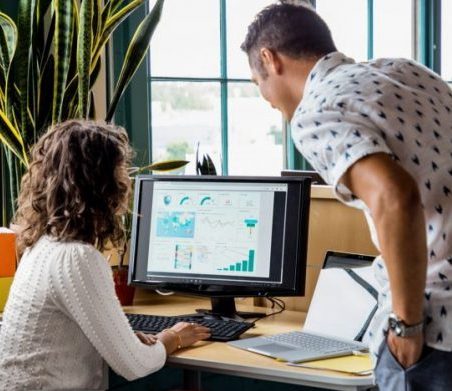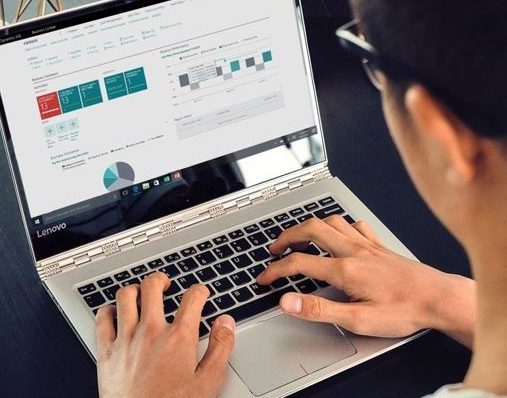 Decisions are being made based on intuition, not factual data
Make smarter business decisions
Centralize data from finance, sales, service, and operations to get an accurate view of your entire business.


Optimize inventory levels by using built-in intelligence to predict when and what to replenish.


Improve financial reporting with seamless Excel integration and advanced analytics from Power BI.


Increase sales by focusing on the right opportunities and responding quickly to customer inquiries.
Data security and compliance are at risk?
Trust in a secure, flexible solution
Secure business processes and ensure audit trails with easy-to-create workflows and controls to secure purchasing, credit authorization, and vendor payment processes.


Handle, store, and transmit data securely across your systems while protecting it from unauthorized access with automatic Microsoft datacenter encryption.


Start with what you need and grow at your own pace by adding capabilities and other Dynamics 365 solutions over time.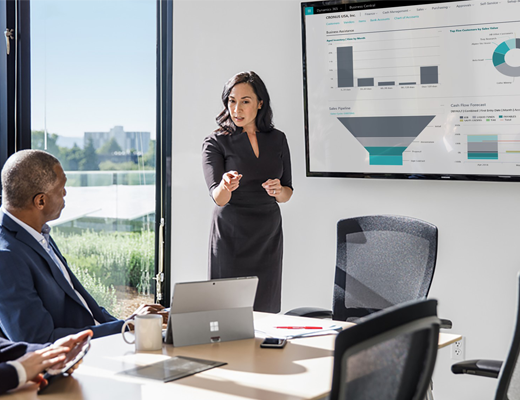 "We run almost all of our business with Dynamics 365, and now we are looking to integrate our forecasting, accounting and finances." 
Keith James, Product Development Coordinator,​ Centric Mining Systems
Keep things running smoothly with 24/7 IT support
Your Dynamic 365 implementation has to be flawless to be successful in running your operations. Your business relies on technology today in a thousand different ways. To keep it all connected and running smoothly you need an IT Services provider who is with you 24 hours 7 days week. 
eMazzanti's in house 24/7 IT support keeps you focused on your business, which is where you need to be. We help by assisting with everything from basic troubleshooting to the extremes of the fated blue screen of death. Our engineers are expertly trained to address and remedy what ever you need, whenever you need it. 
Take a moment and speak with an eMazzanti representative today and we will show you how you can rest easy and focus on what matters which is your business.
Guide employees to optimal outcomes
Predict when and what to replenish with built-in intelligence, sales forecasts and dynamically updated inventory levels.
Get recommendations on when to pay vendors to use vendor discounts or avoid overdue penalties.
Manage budgets and monitor progress with real-time data on available resources.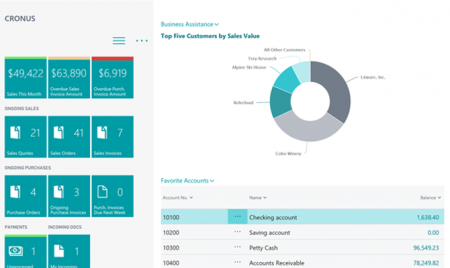 Sell smarter and improve customer service
Focus on the right opportunities and track ongoing sales performance using custom dashboards and multidimensional reports.
Gain a comprehensive overview of service tasks, workloads, and employee skills to effectively assign resources, accelerate case resolution and better customer service.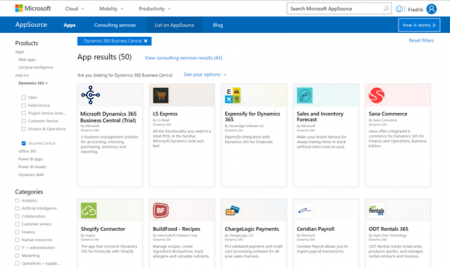 Add industry or business extensions
Extend Dynamics 365 Business Central to fit industry or business needs with integrated add-on apps.
Connect to data sources and services — Excel files, SharePoint lists and CRM records with Microsoft PowerApps.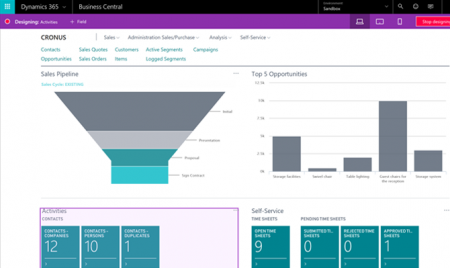 Customize applications to support your unique business needs.
Rearrange fields, rename groups, and reposition elements using a simple drag-and-drop interface.
"I can't say enough about the great people at eMazzanti. We have worked with these folks for four years and I could not be happier.
The staff is professional and personable and incredibly knowledgeable. Four years later this wonderful company adds value to me and our entire company with each interaction…Great company."
"Carl and his team at eMazzanti provide terrific network & IT support. Their knowledgeable team members really help put our staff at ease with any IT issues that we come across.
I highly recommend working with eMazzanti for all business technology-related concerns."
Schedule a meeting to discuss how Dynamics 365 Business Central can bring your business to the next level.
Please contact our team or complete the form.
A representative will contact you shortly.