Outstanding work experience, market presence, and client feedback used to compile Top Managed IT Service Provider NYC List
Hoboken, New Jersey — (Cision) February 28, 2019 – eMazzanti Technologies, a NYC area managed IT service provider (MSP), IT consultant, and cloud services company, is proud to announce that as of February 27, 2019, it ranked first out of 133 firms listed on the Top NYC Managed IT Service Providers list by Clutch.
Notably, eMazzanti also ranked 8th out of 3,424 managed IT services providers globally. In addition, the company also ranks highly among Cloud Computing Consultants and IT Consulting Companies. The list and rankings are published by Clutch, a Washington, D.C. based ratings and review platform.
The ranking methodology used by Clutch is based on four criteria. Past work experience, market presence and client feedback feature prominently in each company's standing. The fourth factor in the ranking, Service Focus, rewards firms that concentrate a larger portion of their business on managed IT services.
Moreover, a Leaders Matrix published on the Clutch website shows that eMazzanti ranks highest on the Ability to Deliver dimension among the market leaders, and highest overall.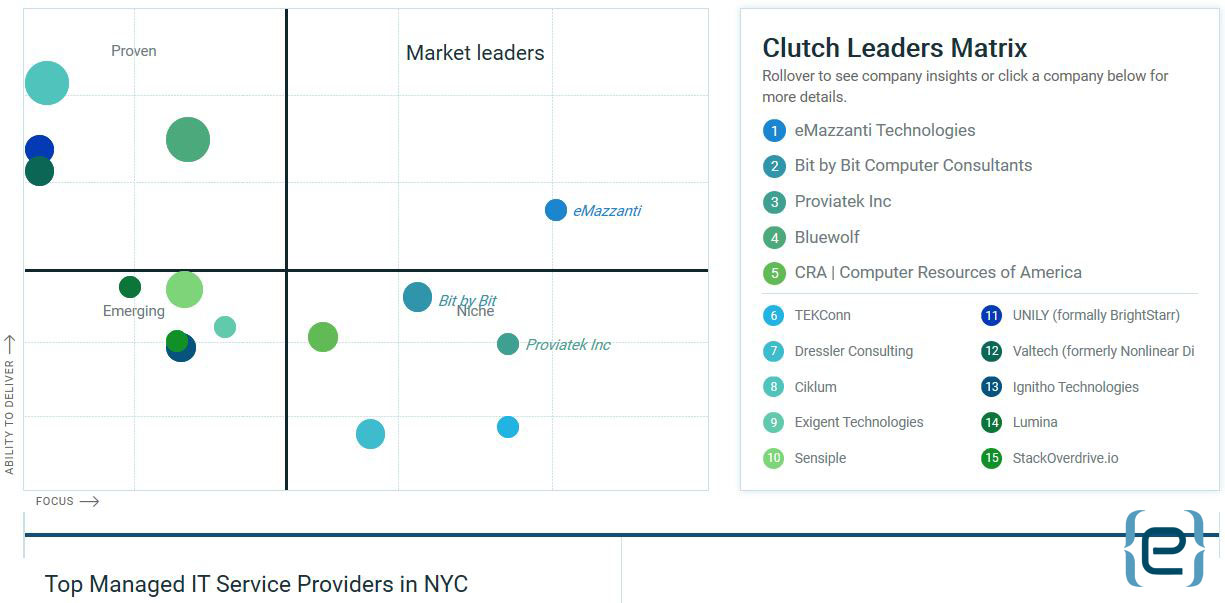 eMazzanti offers a range of managed IT services, including cloud backup and storage, network management, managed security services and infrastructure as a service (IaaS). Independent analysts at clutch interviewed eMazzanti clients to receive honest feedback about its services.
Managed IT Service Provider Perfect Reviews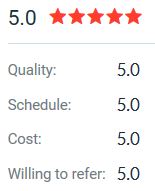 A current managed services client, the Senior VP and CIO of a New York City based insurance firm gives eMazzanti five stars across the board for managed services and an Office 365 implementation project:
"eMazzanti stands out due to professionalism and responsiveness, especially during times of stress. They are helpful and trustworthy with sensitive projects, and they provide a personal feel with their work. The team is both proactive and interactive, consistently staying up-to-date and transparent," the Feedback summary on the Clutch website reads.
The company received another perfect rating from the Operations Director of a New York City apparel and fashion company. According to the Project summary, eMazzanti enhanced employee productivity through site optimization and specialized instruction. They acted as an IT consultant and as on-site support for anything from Mac installations to training new hires.
"The eMazzanti team builds comfortable and efficient relationships. They're a cost-effective solution and were readily available whenever necessary. They have talented employees. So, no problem goes unsolved. And they can be a help on-site, overseas, and 24/7/365," states the Feedback summary for the client.
Business leaders interested in learning more about eMazzanti's award-winning NYC managed IT services can view its Clutch profile to read the full managed IT service provider client reviews that contributed to the Top NYC Managed IT Service Provider ranking or. check out customer managed IT service provider case studies on the eMazzanti website.