The Latest Fashion Trend? Augmented and Virtual Reality
From Facebook's release of the consumer version of their Oculus Rift headsets, to Pokémon Go's record-breaking downloads, there's no doubt augmented and virtual reality has the potential to revolutionize a multitude of industries—the fashion world included.
As we discussed in a previous post, the combination of fashion and technology can be delightfully en vogue. Let's take a look at some of the ways fashion designers and brands are entering the AR/VR space:
Bring the Dressing Room to You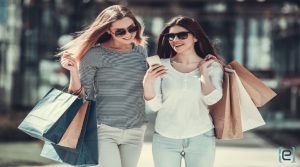 Picture this. You fight to find a parking spot at the mall, and then weave through crowds to get to your favorite store. You snag a shirt to try on, but the dressing rooms have a line out the door. When you finally make it to the front of the line, you have to squeeze yourself into tight quarters with harsh lighting and that cute shirt doesn't look so cute anymore. We've all been there, right? Thanks to the use of augmented reality, that experience may become a thing of the past—much like renting a movie at Blockbuster or hunting for a new CD at Sam Goody.
Clothing retailer, The Gap, recently unveiled their DressingRoom app at this year's CES, which uses augmented reality to let users "try on" Gap styles with their smartphone. Similarly, designer Sabinna Rachimova created a HoloLens-powered virtual closet stocked with her newest collection for London Fashion Week. This augmented reality shopping experience encouraged users to mix and match pieces of Sabinna's collection on a holographic mannequin, and even included a virtual fitting room where the clothes adapted to each shopper's body.
Get the Perfect Look Right From Home
Forget Candy Crush, Sephora's iOS app just became the most fun thing to do with your phone. The makeup retailer recently introduced its "Sephora Virtual Artist" feature, which uses augmented reality technology to scan users' faces so they can try on (and buy) different makeup. Shoppers can play around with various lip colors, eye shadows, and false lashes and even watch virtual tutorials that overlay right on their face.
This technology offers a fun and easy way for customers to try out products with their phones—and other beauty brands like CoverGirl and Rimmel London are following suit. What's better than trying on a new red lipstick? Trying it on right from your couch.
Immerse Yourself in High End Fashion
But the fashion world isn't just paying attention to augmented reality—virtual reality is in the mix as well. In 2015, Dior created their own VR headsets known as Dior Eyes. Touting high-definition image resolution and integrated holophonic audio, the headset provided its wearers with an immersive 360° view of Dior's Ready-to-Wear fashion show. Tommy Hilfiger also launched a VR experience, with shoppers using a VR headset in order to experience the designer's fall collection debut…right from the catwalk.
We're still in the early days of this technology, and there's no saying where the fashion world could take it—but that's what makes it so exciting. Are you looking to make your technology work for you? Contact eMazzanti today.

Bryan Antepara: IT Specialist
Bryan Antepara is a leader in Cloud engagements with a demonstrated history of digital transformation of business processes with the user of Microsoft Technologies powered by the team of eMazzanti Technologies engineers.
Bryan has a strong experience working with Office 365 cloud solutions, Business Process, Internet Information Services (IIS), Microsoft Office Suite, Exchange Online, SharePoint Online, and Customer Service.
He has the ability to handle the complexity of moving data in and out of containers and cloud sessions, makes him the perfect candidate to help organizations large and small migrate to new and more efficient platforms.  Bryan is a graduate of the University of South Florida and is Microsoft Certification holder.