Your Everyday AI Companion
Microsoft Copilot combines the power of large language models (LLMs) with your organization's data – all in the flow of work – to turn your words into one of the most powerful productivity tools on the planet. It works alongside popular Microsoft 365 Apps such as Word, Excel, PowerPoint, Outlook, Teams, and more. Copilot provides real-time intelligent assistance, enabling users to enhance their creativity, productivity, and skills.
To kick start Copilot in the marketplace, eMazzanti Technologies is offering 1 Free Month with an annual subscription and NCE for users of Office 365.
Why wait! You can try this exciting new AI based application at no charge.
For more information contact
[email protected] or call us now 844.360.4400
Your AI-driven partner
That amplifies your creativity
And takes the grunt work off your plate
Chat using natural language (and code)
You determine, guide, and approve the output
Its value increases with complexity
Microsoft Copilot, a whole new way to work
Copilot helps you achieve things like never before using the power of AI.
Explore what's possible with Copilot

Microsoft 365 Chat (preview)
Combine the power of AI with your work data and apps to help you unleash creativity, unlock productivity, and uplevel skills.
Have more effective meetings, catch up on chats, and bring everything together in Teams.
Start emails quickly, generate a summary, and catch up on long emails easily.
Start a draft, add to an existing document, rewrite text, generate a summary, or chat with Copilot.
Create a new presentation, organize and summarize presentations, and more.
Go deeper with data, identify insights, generate formulas, and more.
Summarize your notes, create a to-do list, design a plan, and chat with Copilot.
Plan, brainstorm, create, and collaborate easier to stay in sync.
Try different prompts to get what you want
Create
"Write an article on the importance of personal wellbeing."
"Create a table of pros and cons for this campaign."
"Write me a quick and easy recipe for chocolate chip cookies."
"Add a relevant image to this slide."
"Generate a formula column suggestion."
Edit
"Rewrite the text to be more concise."
"Organize this presentation into sections."
"Bold the top 10 values in the Sales column."
"Write a paragraph using the selected bullet points."
Catch up
"List the main items discussed in the meeting so far."
"Summarize the discussion using more simple language."
"List the main items discussed in the meeting so far."
"What are the key points in this doc?"
"What are the dates and deadlines mentioned in this presentation?"
Ask
"What decisions were made at the meeting, and what are my action items? "
"Did the team achieve consensus on a decision and if so, what was it?"
"Give me ideas for icebreaker activities for a new team."
"What is a readable font size for a PowerPoint presentation?"
"Brainstorm a list of creative ways to introduce our new product to customers."
Copilot works alongside you to unleash your creativity and help you perform tasks faster. Since AI-generated content may be incorrect, here are a few things to remember…
Technology as the Anti-Inflation Tool | Do More with Less
Bryan Antepara, Senior Cloud Architect and Team Lead, eMazzanti Technologies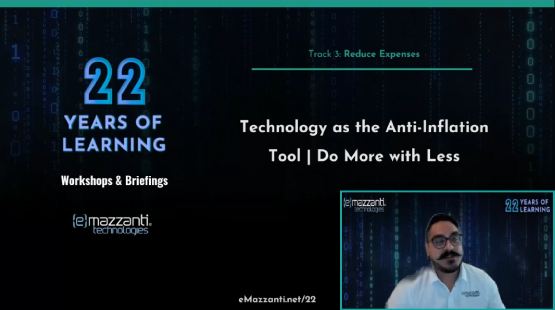 This presentation considers the reality that every organization is facing issues of staffing, rising supply costs, and increased demands from their customers and that department heads and ownership often have sleepless nights as a result. Defining a smart and reasonable technology strategy that can deliver costs savings and security so that your business competes with a stable platform for continued growth.
This session will focus on Microsoft CoPilot– a yet deployed but incredibly important tool that will help you grow.
Empowering everyone to achieve more
Bing Chat Enterprise
Microsoft 365 Copilot
Windows Copilot
Microsoft Sales Copilot
Dynamics 365 Copilot
Security & IT
professional
Microsoft Security
Copilot
Developer & data
professional
Copilot in Power Platform
GitHub Copilot
Copilot in Fabric
Copilot in Power BI
Please contact our team or complete the form.
A representative will contact you shortly.