Fall is here! It's great! About Town loves cursing at cold mornings and having to wear extra layers.
We got back to business last week. Lots of events. On Monday we watched the new Ibby's Falafel cut its grand opening ribbon. Councilwoman Jennifer Giattino, who represents the city's falafel district, was there. Also in attendance were Councilman David Mello and nearby residents Joe Branco, owner of Room 84/Scotland Yard, as well as Housing Authority Director Carmelo Garcia.
You might have read the recent article on Patch about the so-called Hoboken falafel wars written by About Town's less handsome alter ego. What an intrepid piece of journalism!
Fun fact – while at Ibby's About Town learned that Carmelo Garcia is allergic to onions. Then, two minutes after leaving Ibby's we ran into Garcia again while he was walking his dog. We didn't know he had a dog. Now we're practically friends on Facebook.
On Wednesday About Town caught the latest segment of the Hoboken Chamber of Commerce's Women in Business Council's Influential Speaker Series. You can call it HCCWBCISS if it's easier for you.

The event took place at Sinatra Park. We chatted with Chamber president Michael Novak, as well as the exotic accented Dr. Kathia Roberts and insightful marketing maven Elizabeth Barry. Councilwoman Beth Mason, Freeholder Anthony Romano and Assemblyman Ruben Ramos were there too. Singer Ray Greiche serenaded the crowd.
About Town had a nice conversation with the guest speaker, the wonderfully named Alice Gast, who is the first ever female president of Lehigh University.
Gast got her doctorate in chemical engineering at Princeton and told About Town that while there she visited Hoboken several times.
We couldn't stay long enough to hear Gast speak, but we would have found her talk inspiring. Gast is building upon four decades of shattering the glass ceiling – Lehigh was a dudes only school until 1971.
First, About Town believes in equal opportunity, especially in colleges. Second, why would any guy want to go to a college that didn't have any women? Even World of Warcraft guilds have women these days. About Town went to a college that had over 10,000 women, it was great (though we were too scared to talk to any).
On Thursday About Town went to a tenth anniversary party for eMazzanti Technologies. The award-winning company specializes in a lot of things, especially handling and storing data. By 2015 they expect to store over a petabyte of data, which is a number ending in  about 86 zeros.
The party was at the Maxwell Lounge, a seventh floor room with a bar, pool table, patio and picturesque view of Manhattan.
We were heading into the building when a car pulled up to the front. A man and a woman in their golden years got out and the woman passive-aggressively snapped at the parking attendant, "we're not going to have to wait forever to get our car, are we?"
We saw this and thought: lady you just spent a half hour scratching your wrinkled lids with garish eyeliner, what's another ten minutes? Meanwhile her husband was dressed for dancing at the Chandelier Room, on the nights when the CR discounts the cover charge for older fellows who expose three buttons worth of wild chest hair.
Once inside we sat down at a table. On the table we found several two inch square temporary tattoos with the eMazzanti logo. We took one planning to go home, slap it on our forearm like a sailor and take a photo for you readers.
Just then we saw a guy walk by with the tattoo on his cheek. He went Tyson! A total knock-out of About Town's idea. The temporary tattoo would have gone nicely with the permanent two we got when we were 18 years old and thought, "I'm going to a college with 10,000 women, chicks dig tattoos, surely they'll talk to me now!"
We spoke with Jennifer Mazzanti, who is eMazzanti's business and idea strategist, and is also married to the company's founder Carl Mazzanti. They just celebrated the birth of their second child.
Mazzanti said that having children reminds her of helping to start eMazzanti ten years ago. "You put your heart and soul into creating something and want to watch it grow," she said. Mazzanti said that with so many global clients the company might expand to multiple locations soon, but that it will always retain its headquarters on Seventh and Grand streets. More importantly, Mazzanti said the couple loves Hoboken and wants to continue raising their family here.
Finally on Friday About Town caught an entertaining comedy show at Willie McBride's. The show is a monthly feature produced by comedian Joel Richardson and his company Soul Joel Productions.
The lineup featured quick thinking host Josh Spear, a delightfully vulgar Jodie Wasserman, headliner and rising star Yannis Pappas and charming Kelly Sater, a Hoboken resident.
About sixty people attended, many of who were there as members of the Hoboken Social Sandbox meetup group. Best of all, proceeds from ticket sales went to the Sandox's Pink Ladies group, which is raising money to help fund breast cancer research.
The comedy show was a great way to end a busy week. Now it's Monday again and About Town is getting ready for another full week of events. We just have to find a sweater to face the cold first.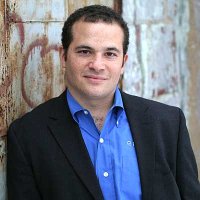 Carl Mazzanti is Co-Founder and President of eMazzanti Technologies, Microsoft's four time Partner of the Year and one of the premier IT consulting services for businesses throughout the New York metropolitan area and internationally. Carl and his company manage over 400 active accounts ranging from professional services firms to high-end global retailers.
eMazzanti is all about delivering powerful, efficient outsourced IT services, such as computer network management and troubleshooting, managed print, PCI DSS compliance, green computing, mobile workforce technology, information security, cloud computing, and business continuity and disaster recovery.  
Carl Mazzanti is also a frequent business conference speaker and technology talk show guest and contributor at Microsoft-focused events, including frequent prominent roles at the Microsoft Inspire (Worldwide Partner Conference / WPC).
Carl, a serial Entrepreneur, gives back to the community through Entrepreneur teaching engagements at Georgetown University, the company's ocean wildlife conservation effort, the Blue Project, and Tree Mazzanti.