With the number of technological tools available to entrepreneurs and business managers today, running a small business has never been easier. The Microsoft Surface range is an invaluable tool for small business owners: using the latest technology to boost your organization's productivity and make your day-to-day operations smoother than ever. The Surface range features several different options, each catering to a different type of organization and different aspects of business management. But don't worry—every device connects seamlessly to external components like printers, speakers, and monitors.
The variety of different options is exciting, but can be difficult to navigate. Depending on your business' needs, you may need a certain combination of devices. That's why we've created a helpful rundown of each Microsoft Surface device:
Surface Pro: Work On-The-Go
For some of us, the job doesn't stop just because we left the office. And that work ethic calls for a device with the power of a laptop and the versatility of a tablet. Enter, the Surface Pro.
Designed with busy creative and execs in mind, the Surface Pro is compatible with Microsoft Office apps and boots up within seconds, allowing you to get to work immediately. Also ideal for showing clients your work, the Pro includes a large touchscreen and a tablet mode for easy typing. Like the other Surface devices, it's compatible with external devices.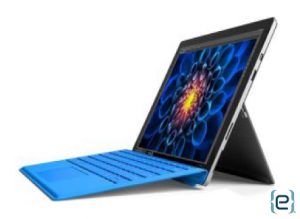 Surface Laptop: Efficient and Sleek
Similar to the Surface Pro, but with several important differences is the Surface Laptop. It includes all the basic functions of the Surface Pro, but features a larger screen and a form that follows the traditional laptop functionality. With a long battery life (up to 14.5 hours!) and a keyboard covered in Alcantara fabric for soft typing, the Surface Laptop is a sleek, high-capability device sure to improve your business' efficiency.
Surface Book: Professional Look with Various Capabilities
Among other features, the Surface Book features two USB ports and capability for a full-size SD card. Built for high performance, the Surface Book contains 16GB of memory and a battery life of up to 16 hours. Compatible with Microsoft Office and Windows 10, with a professional design, the Surface Book is a great option for small business owners.
Surface Studio: The Ultimate Designer's Tool
Surface Studio is an all-in-one desktop solution for designers. The screen is adjustable and responds to touch, complete with a digital Surface Pen and Surface Dial. A high-performance capacity, range of capabilities, and large, high resolution monitor make this the perfect tool for designers.
Surface Hub: Collaborate Seamlessly
Surface Hub is designed to make conference calls, meetings, and group collaborations more seamless and efficient. Among other things, it features a large touch screen with high resolution and double cameras. Hub uses Skype technology and is compatible with apps like Microsoft Office and OneNote.
At eMazzanti, we offer IT consultations for small and medium-sized businesses, helping entrepreneurs and managers maximize their business' potential. Contact us today to discover how Microsoft Surface can transform your company.

Bryan Antepara: IT Specialist
Bryan Antepara is a leader in Cloud engagements with a demonstrated history of digital transformation of business processes with the user of Microsoft Technologies powered by the team of eMazzanti Technologies engineers.
Bryan has a strong experience working with Office 365 cloud solutions, Business Process, Internet Information Services (IIS), Microsoft Office Suite, Exchange Online, SharePoint Online, and Customer Service.
He has the ability to handle the complexity of moving data in and out of containers and cloud sessions, makes him the perfect candidate to help organizations large and small migrate to new and more efficient platforms.  Bryan is a graduate of the University of South Florida and is Microsoft Certification holder.