NYC metro area IT consultant, eMazzanti Technologies, now offers lightning fast connectivity to speed up media-intense desktop applications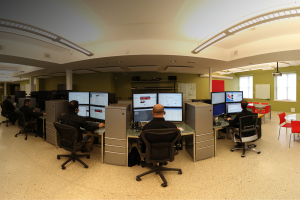 Hoboken, New Jersey ­- (Vocus) May 22, 2014 – eMazzanti Technologies, IT support and computer consultant in the New York City Metro area, today announced that it is now offering 10GB Ethernet connectivity to desktops, making the fastest data transfer rates available to any business at reasonable prices. According to Carl Mazzanti, CEO, the technology was previously considered unnecessary or was priced to exclude small to mid-sized businesses.
"With today's media-rich, bandwidth-hungry applications and data migrating to the cloud, the need for faster data transfer rates to the desktop has exploded," stated Mazzanti. "Businesses now have an affordable option to achieve zero latency for this new class of application."
10GB Ethernet
With increasing demands for greater data transfer speeds and specialized applications using high-performance shared storage systems, 10GbE use has skyrocketed. This high-speed wired networking standard offers ten times the performance of Gigabit Ethernet (1GbE), the common wired network connection included with most computers today.
The first 10Gb Ethernet (10GbE) technologies, which appeared in 2002, used optical fiber connections, which made them costly to implement and destined for high bandwidth data centers and server rooms. With the advent of 10GbE over copper, the familiar Ethernet cables with RJ45 connectors can now be used. And with the falling prices of 10GbE switches, 10GbE connections to the desktop are becoming practical. The constant evolution in networking is making 10GbE affordable from the core of the network to the edge.
Even with the growth over the past decade in 10GbE networks, servers and storage, 1GbE connections to desktops have persisted. Experts often expressed the opinion that there just weren't any applications that required the speed.
According to Mazzanti, however, 10GbE to the desktop will soon be a requirement in some industries. Video professionals will particularly crave the boost in transfer speed as the industry adapts to ultra-high resolution 4K video. The capability to transfer large files with low latency will be not just cool but a coveted productivity enhancing tool for business.
With today's announcement, eMazzanti Technologies, which has been setting the pace for affordable cutting-edge technologies for business, is making the exciting 10GbE to the desktop technology available for almost any business.
Other related resource information:
eMazzanti Article: 3 Things You Need to Know Before Choosing Technology
eMazzanti Technologies Ranked Among Top MSP's Worldwide
About eMazzanti Technologies
eMazzanti Technologies' team of trained, certified experts provide 24×7 outsourced IT support to strengthen IT security, ensure business productivity and address challenges of growth, cloud computing, mobility, critical business continuity and disaster recovery demands. The consultancy has special expertise in retail, manufacturing, distribution, financial, architectural, engineering, construction, government, educational, legal services, accounting, marketing communications, and healthcare market segments, while maintaining high customer satisfaction levels. Flexible support plans range from fixed-fee, around-the-clock network management where eMazzanti functions as an extension of a businesses' IT staff to a custom-solution provided on an as-needed basis.
eMazzanti serves the Hoboken, NJ and NYC area markets as well as regional, national and international business support requirements. The IT firm is Microsoft's 2012 Partner of the Year and on-going Gold Partner, Microsoft Northeast Region Partner of the Year, a four-time recipient of WatchGuard's Partner of the Year and has achieved the Inc. 5000 list for the fourth year in a row. Download the free article: How to Select an IT Provider. More than 400 companies trust their IT support needs to eMazzanti Technologies.
For more information contact: Carl Mazzanti 201-360-4400 or emazzanti.net.
Twitter: @emazzanti,
Facebook: Facebook.com/emazzantitechnologies.