In 2023, one out of every eight employees work full time from home, while nearly one in three employees work in a hybrid model. Thus, workgroups routinely collaborate across distances. And millions of them use Microsoft Teams to power remote collaboration. Using devices specifically certified to work with Teams greatly enhances the Microsoft Teams experience.
When conducting an interview remotely or collaborating in real time over distance, technology makes all the difference. Video devices that require complicated setup waste valuable meeting time, while poor audio and video quality reduce meeting effectiveness.
On the other hand, consistent and reliable equipment with intuitive controls and advanced features delivers a meeting experience at least as effective as an in-person meeting. And when that equipment integrates seamlessly with Microsoft Teams, collaboration, efficiency, and creativity move to the next level.
Benefits of Using Microsoft Teams Certified Devices
Microsoft has compiled a list of Microsoft Teams certified devices. These hardware tools have been tested and certified to deliver consistent and reliable performance when used with Microsoft Teams. The list of tools includes devices such as headsets, speakerphones, webcams, and monitors.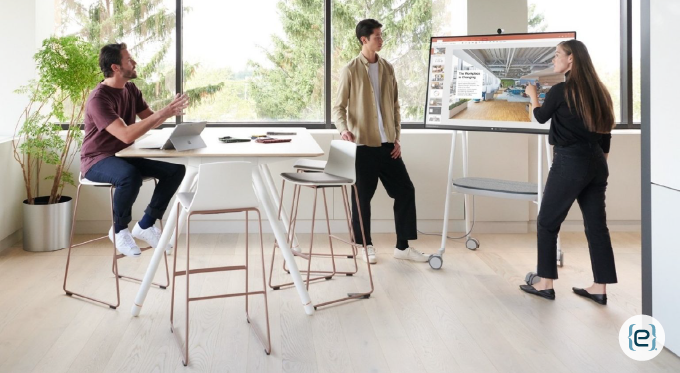 Using Microsoft Teams certified devices provides users with several key benefits including:
Enhanced audio and video quality – Features such as noise and echo cancellation, auto-framing and more ensure that these devices deliver clear sound and crisp video. These features help reduce background noise and distractions, improve speech intelligibility, and optimize the view of the participants.
Easy setup and use – Microsoft Teams certified devices are plug-and-play, meaning they work out of the box with Teams without requiring any additional software or drivers. They also include intuitive controls to allow users to easily adjust the volume, mute or unmute, join, and leave meetings and so forth.
Seamless integration – Microsoft Teams certified devices integrate fully with Teams. This means that they support Teams features such as proximity join, device switching, live captions, and live transcription. They also sync with Teams calendars and status, so users can see upcoming meetings and availability at a glance.
Centralized management – Microsoft Teams certified devices can be managed from the Teams admin center, where administrators can monitor device health and usage, configure settings, and troubleshoot issues. Administrators can also use Microsoft Endpoint Manager to apply policies and settings to devices across the organization.
How to Choose the Right Teams Certified Device for You
Various vendors offer dozens of Microsoft Teams certified devices, and choosing the right device for your organization requires some homework. Consider several criteria as you evaluate your options.

First, consider the type of device that will prove most appropriate for the scenarios involved. That is, individuals may require headsets and a webcam, while small groups need speakerphones. And larger groups require conference phones or all-in-one room systems.
Second, consider the desired features and the available budget. For instance, devices may include various camera features, portability, wireless or wired connectivity, touch screens and more. Be sure to also consider the organization's security standards to ensure that the devices support requirements such as encryption and authentication.
Finally, look at device compatibility with existing infrastructure. This will include compatibility with operating systems such as Windows, Mac, or Android. It will also include compatibility with the type of network, as well as the power source (USB or AC).
The Microsoft Teams Devices Showcase website includes a list of all Microsoft Teams certified devices. Users can filter the list according to device type, type of space, brand, and features.
Yealink Solutions Enhance the Microsoft Teams Experience
Yealink is a global-leading provider of Microsoft certified solutions, from desk phones and conference phones to headsets, cameras, and interactive smart whiteboards. They also offer meeting bars for various sizes of rooms that include the conference room webcam, microphone, and speakers in an all-in-one system.
Yealink solutions are designed to integrate seamlessly with Microsoft Teams, providing a consistent interface across platforms and devices. They also deliver excellent audio and video quality to provide an immersive meeting experience. And AI-powered features such as auto framing and speaker tracking further enhance meeting quality.
As a preferred partner of both Microsoft and Yealink, eMazzanti will help your organization configure the best device solution to power remote and hybrid work.
Chat, meet, call and collaborate all in one place

Unlimited Backup and Data Protection