Do you wish you can have the same bookmarks (from Internet Explorer or Firefox) from your work computer on your home computer or vice versa? Well, your wish has been granted. There is a program that can sync your bookmarks between both (work & home) computer called Bookmarksync (www.bookmarksync.com).
Just sign up (FREE) and create a profile. Then click on Download and select your software version (PC or MAC OS X).
Download and install the bookmarksync client to your work & home computer.I would install the client on the computer that has all of the bookmarks that you would like to sync up.
Once the client is installed, it will upload your bookmarks to the bookmarksync.com website.
Then install the bookmarksync client on the other computer.Voila, you now have the same bookmarks in both locations. Now whenever you add a new bookmark, it will upload to their server and then sync with your other computer.Once installed, it will mention that the bookmarks on their server is newer than the ones in your browser.
Select the recommended choice.
One other neat feature of this FREE service is that if you are using a public computer (at an internet cafe), you can go to www.bookmarksync.com, log in using your credentials and then click on the My Links tab. This will bring up a page with your bookmarks. So if there is a website that you bookmarked and forgot the URL, you can click on the bookmark link and then it will take you to the desired webpage. How cool is that?
Have fun with your bookmarks!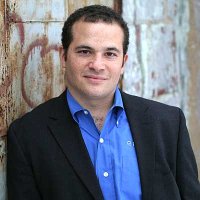 Carl Mazzanti is Co-Founder and President of eMazzanti Technologies, Microsoft's four time Partner of the Year and one of the premier IT consulting services for businesses throughout the New York metropolitan area and internationally. Carl and his company manage over 400 active accounts ranging from professional services firms to high-end global retailers.
eMazzanti is all about delivering powerful, efficient outsourced IT services, such as computer network management and troubleshooting, managed print, PCI DSS compliance, green computing, mobile workforce technology, information security, cloud computing, and business continuity and disaster recovery.  
Carl Mazzanti is also a frequent business conference speaker and technology talk show guest and contributor at Microsoft-focused events, including frequent prominent roles at the Microsoft Inspire (Worldwide Partner Conference / WPC).
Carl, a serial Entrepreneur, gives back to the community through Entrepreneur teaching engagements at Georgetown University, the company's ocean wildlife conservation effort, the Blue Project, and Tree Mazzanti.